So, I'm doing a TBR list. We will see how laughable this decision is next month when I discover how closely I followed my plan. I am very much a book flitter;I flit between books. Plans do not work for a free soul like me. Actually, plans are the only thing that get me through most days, but let's ignore that.
A Court of Thorns and Roses by Sarah J. Maas
Back in the Fictionpress days (Fictionpress still exists, Leah), I used to  take twenty minutes of our precious dial up diligently loading new chapters from an epic, sprawling novel called Queen of Glass. Later that novel I adored so much became Throne of Glass, and the sequels. To my disappointment, I felt less than enamored with it.  I expected a grand adventure, what I got was mainly a romance. Now that I've readjusted my expectations, I am willing to give Maas a second chance.
2. Juliet Takes a Breath by Gabby Rivera
People have described this book as one of the most positive of 2016 and, let's be real, after the year we've had, we all need a little bit of positivity.
The main character, Juliet, has recently moved away from home after telling her parents she's a lesbian.  Now  in Oregon, she's landed her dream summer internship, but she still hasn't figured out how different parts of her identity– Puerto Rican, Lesbian, undoubtedly other elements I don't know about yet because I haven't read the book— fit together.
3.  White Rose: Munich 1942-1943 by Inge Scholl

The White  Rose was an underground organization in Munich, comprised of students and professors, dedicated to opposing Hitler's fascist regime and the atrocities committed under him.
Now the sister of two of its founders has compiled letters, flyers and stories into this volume to preserve an account of courage in the face of  horror.
History, for me, has always been a collection of stories and I'm hoping to spend more time this year learning them.
4. Under a Painted Sky by Stacey Lee 
1849. A young girl dreams of going to New York to become a musician. But life doesn't afford many opportunities for Samantha, a Chinese girl, living in Missouri. Samantha discovers how many difficulties society can erect after the tragic loss of her father. Now in danger, she is forced to flee. With the help of a runaway slave named Annamae, she leaves Missouri behind. The two invent new identities, Sammy and Andy, and head west for the gold rush. On the run from the law, the two form a deep bond.
Stacey Lee, one of the founders of #WeNeedDiverseBooks, debuted with this book  two years ago. I'm only catching up now.
5. Bone Witch by Rin Chupeco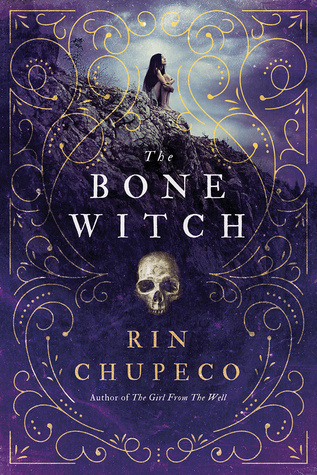 Oh, come on, you didn't seriously think I would only read one fantasy this
month? Fantasy will almost always be my #1
A witch. A war. A  world on the line. Tea is born special in a world full of witches. While
others might control the Air or the Water, Tea can control the dead themselves. This makes her feared but also powerful. Now with the eight kingdoms on the edge of war,  Tea must hone her skills to defend her family and her home.
Mixed reviews on this one, but the concept is just so intriguing. This one will be released this month so it depends entirely on my ability to get it from, y'know, another country.
Wow I should write blurbs. Just kidding 
And that's it for this month! What are y'all planning on reading? Tell mmmeeeeeee. Or don't, I get it. (But actually, do, please )